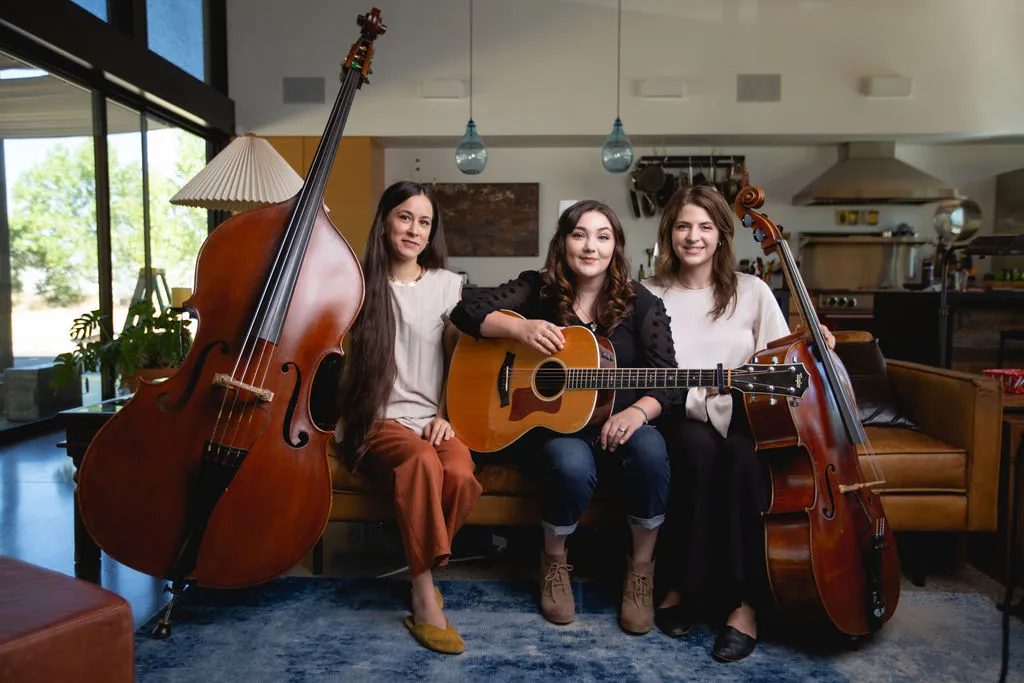 Dear Darling
Dear Darling is the nom de plume of the Sacramento-based trio of Natalie Hagwood (cello and voice), Casey Lipka (bass and voice) and Hannah Jane Kile (guitar and voice). Together, their joyous meld of jazz, folk, classical and pop delivers a fresh new sound that is being recognized both locally and nationally.
Happenstance and the Covid lockdown brought the three "Darlings" together in late 2019. Casey Lipka and Hannah Jane Kile immediately bonded after the two met while performing in the thriving Sacramento music scene. Natalie Hagwood and Casey Lipka joined forces after Lipka hired Hagwood sight unseen for a gig and realized the duo's undeniable chemistry. At Lipka's suggestion, the three women met, and Dear Darling became a reality.
Dear Darling's uplifting vocal harmonics echo Joni Mitchell and the Laurel Canyon sound of the late '60s. Augmented with classical instrumentation fused with modern day messaging that encourages empowerment and inner strength, Dear Darling put a distinctively feminine spin on the Americana music form.
After an auspicious national debut in March as opening acts for headliners Emmy Lou Harris, Tommy Emmanuel and Grace Potter at the Cayamo Sixth Man Festival, Dear Darling have continued their reign as one of Sacramento's most heralded ensembles. Along with a full fall local performance schedule, the Darlings will finish the year recording the follow-up to their self-produced debut album, Believe, while preparing for summer 2023 West Coast and Midwest tours.
Intense and powerful, vulnerable and open, the new recording, Heart Harbor, adds a new sheen to the trio's lush three-part harmonies and folk/jazz/neo-classical vibe. Slated for summer 2023 release, the new recording features the trio's cello, guitar and bass with additional pop influences and instrumentation that reflect a new refinement to an already nouveau sound. With angelic harmonies as billowy as clouds, and a growing live performance schedule, Dear Darling continue their rise from critical "darlings" to a wider mainstream audience.
And that's no small feat for a trio whose musical vision is unique to the contemporary music scene.