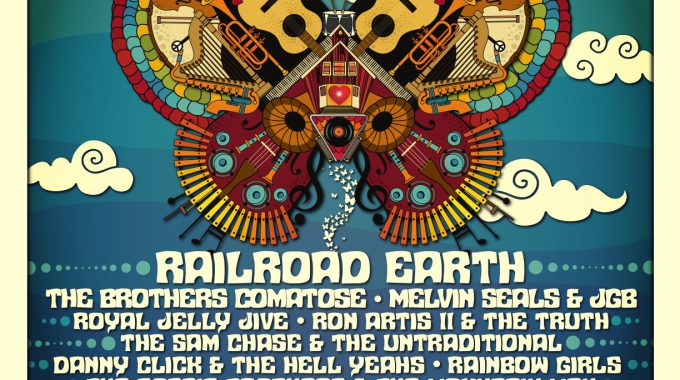 Railroad Earth, The Brothers Comatsoe, Melvin Seals & JGB headline the 11th Annual Petaluma Music Festival
June 26, 2018
Railroad Earth, The Brothers Comatose, and Melvin Seals & JGB headline the 11th Annual Petaluma Music Festival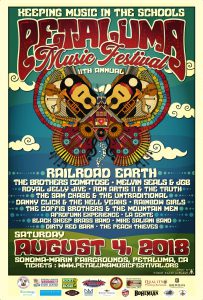 This marks the eleventh year for what has become one of the most highly regarded festivals on the West Coast.  The Petaluma Music Festival will take place on Saturday, August 4th, 2018, at the Sonoma-Marin Fairgrounds & Event Center in Petaluma.
With past festival performances by national acts like Trombone Shorty, The Devil Makes Three, Galactic, Chris Robinson Brotherhood, Nahko and Medicine for the People, Jackie Greene, Xavier Rudd, and The Wood Brothers, festival goers are always treated to a family-friendly event with a unique variety of indie and jam band music for people of all ages.
This year is no exception, and "newgrass" fans should be particularly excited.  Performing at the 2018 Petaluma Music Festival is the roots and Americana newgrass jam band Railroad Earth, the high-energy, foot-stompin' bluegrass and folk-rock of The Brothers Comatose, the jam band musical legacy of Jerry Garcia with Melvin Seals & JGB, the soul, funk, and blues of singer-songwriter Ron Artis II & The Truth, the old-school throwback rock, gypsy swing, and dance-party soul of Royal Jelly Jive, the country rock and blues of Danny Click & The Hell Yeahs, the hard-driving Americana and folk of The Sam Chase & The Untraditional, and the rich harmonizing folk-rock of the Rainbow Girls.  Joining these headliners are Bay Area favorites: The Coffis Brothers & The Mountain Men, Afrofunk Experience, La Gente SF, Black Sheep Brass Band, The Mike Saliani Band, Dirty Red Barn, and The Peach Thieves.
Rounding out the day are a silent auction, a celebrity autographed guitar raffle, a fantastic kid's area, free drinking water, and a variety of specialty food, craft, and merchandise vendors.  The presenting community partner is the Lagunitas Brewing Company.
The Petaluma Music Festival is a 501(c)3 non-profit organization dedicated to "keeping music in the schools."  All festival proceeds benefit the music education programs in all Petaluma area public schools. In the last eight years, the Petaluma Music Festival has donated over $265,000 to keeping music in the schools, and they are looking to increase that number in 2018.
Tickets are $55 for General Admission, $149 for VIP, and children 12 and under are free with a paying adult. Ticket prices will increase on the day of festival.  Students 13-17 can purchase $20 tickets at the door.  Tickets are available for purchase online at www.petalumamusicfestival.org and in person at McNear's Restaurant in Petaluma and The Last Record Store in Santa Rosa.  Gates open at 11:30 AM and the festival concludes at 9:30 PM.
The festival location is the Sonoma-Marin Fairgrounds, 175 Fairgrounds Drive, Petaluma, CA 94952.
For more information about the Petaluma Music Festival please visit the website: www.petalumamusicfestival.org