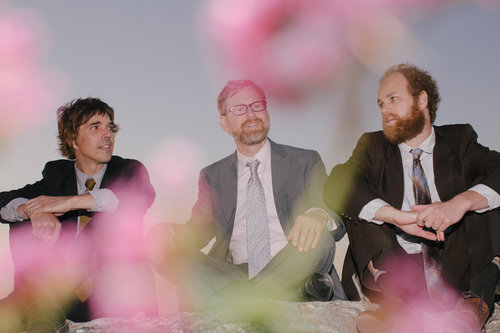 Magic In The Other
An intelligent music listener's dream. The music is danceable but also worthy of focus to see their communication in real time. It is something special to bear witness to the birth of a band that could potentially take a scene by storm, you feel like you're in on something, witness to something great." – Glide Magazine
Magic In The Other was born out of the idea that it is in the unknown where the most potent ground lays for magic and discovery. Assembled in early 2017 consisting of in-demand Bay Area musicians – drummer, lead vocalist and bandleader Ezra Lipp (Phil Lesh & Friends, Sean Hayes), bassist Steve Adams (ALO, Nicki Bluhm & The Gramblers) and guitar wizard Roger Riedlbauer (Jolie Holland), this innovative trio from Oakland, CA sets out to connect with their listeners, creating a mentally-stimulating, emotionally-resonate, highly-danceable, and distinctly-transformative experience where everyone feels just a little more magical. A rock trio at its core, MITO combines a slew of diverse influences to create an original sound of intelligent songwriting and heart-felt, improvisational fearlessness.
In their first year while building a buzz in the bay area MITO was able to crowdfund 20K to go towards the productions and recording of their debut record, What We Know Is Possible released (September 2018) which was met with enthusiastic reception from fans and critics a like. WWKIP delivers half energetic and intriguing instrumentals as well as half uplifting lyrical songs with a socio-political focus.
"What We Know Is Possible is perhaps the first record to arrive in the midst of our current world struggles that truly tries to make sense of these times in which we live. It could have gone dark, but dark is not where MITO goes. There is a strong message of hope here that lifts the listener up. Collectively, the songs become an anthem of empathy amidst a daily grind of negativity. Songs that take hurtful topics like natural disasters as well as an apocalyptic political landscape and turn all that hurt and confusion on its head by examining these negatives through a quest for personal positivity. They seek the answer to the question of how to still boundlessly love one's fellow man and embrace one's personal blessings amidst a world, quite literally, on fire…But do not couch these words as a suggestion that this album has a political agenda, no way, it's just an invitation to come to the table." – Glide Magazine
2019 sees MITO continuing to tour and build a fan base near and far in support of their first record, while they get back into the studio to record their next works.